Informatics
Upon starting this course, I had no idea what nursing informatics meant. I had to do a bit of reading before I was finally like "ah-ha! I get it!". I had to start by breaking the two terms up. The term informatics can be traced back to 1957 when the words "information" and "automatic" were amalgamated to describe automatic processing of information (Baker, Fond, Hale, & Cook, 2016). A more recent definition of informatics can be described as "the science concerned with gathering, manipulating, storing, retrieving and classifying recorded information" (Baker et al., 2016).
Nursing Informatics
In the year 2021, technology is a part of every aspect of our nursing career. From vital machines, to electronic charting, to checking a diabetic's glucose level, to calling a physician, you are guaranteed to be using technology at every turn. Simply put, nursing informatics is the use of computers and technology to support all aspects of nursing practice. This can include direct delivery of care, research and education. (McGonigle, Hunter, Sipes & Hebda, 2014). The American Nurses Association gives a more detailed definition.
"Nursing Informatics integrates nursing science, computer science, and information science to manage and communicate data, information, knowledge, and wisdom in nursing practice"

American Nurse, 2007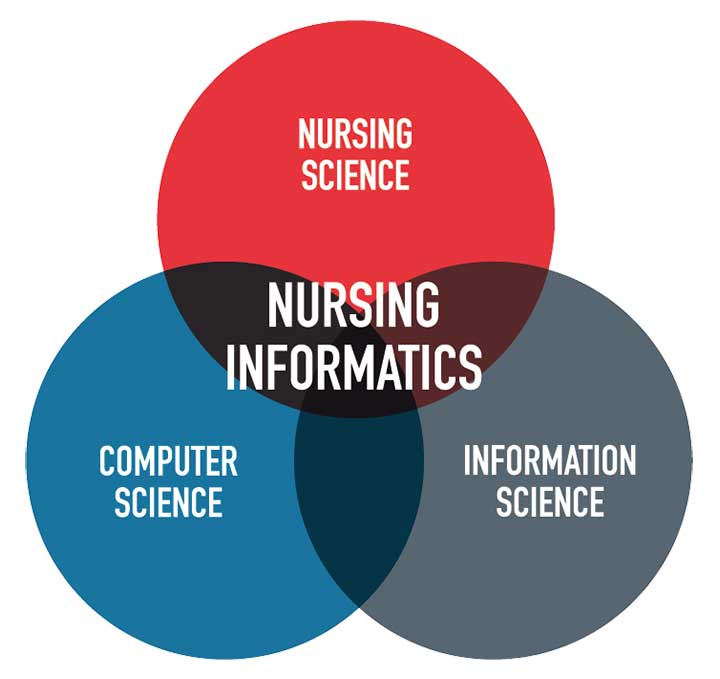 The Canadian Association of Schools of Nursing (CASN) developed nursing informatics entry-to-practice competencies that registered nurses should possess upon graduating from an undergraduate nursing program in Canada (2014). The competencies include:
Uses information and communication technologies to support information synthesis in accordance with professional and regulatory standards in the delivery of patient/client care
Uses relevant information and knowledge to support the delivery of evidence informed patient care
Uses ICTs in accordance with professional and regulatory standards and workplace policies
Uses information and communication technologies in the delivery of patient/client care (CASN, 2014)
In this era, we are dealing with large amounts of data. This means nursing informatics competencies are the key to safe, efficient, and quality practice (McGonigle et al, 2014).
Advancements in technology in the medical field are skyrocketing forward which is having a major influence on healthcare (Elrick, 2017). Being tech savvy is no longer an option in the field of nursing, it is a requirement. One of the biggest technological changes we have seen in our field is the implementation of electronic charting. Some other changes we have seen include enhanced diagnostic devices, allowing patients access to their own medical records, patient lifting devices to reduce injuries to nurses, enhanced communication between the interdisciplinary teams, and GPS tagging of medical equipment (Elrick, 2017). Technology is used to make our jobs easier and advance care for patients, but it can still be a learning curve. That's why it is vital for nurses to take a nursing informatics course, like this one, to be successful in their studies. Not only is this course about nursing informatics, but we are being challenged to utilize technology in different ways to be successful. Technology is a vital aspect to our careers as nurses.
Thesis Statement
Technology has directly positively impacted the quality of life of those suffering from type 1 diabetes.
My first argument would be the use of blood glucose readers. They're easy to do at home to monitor your sugars. Technology is making it even easier now with continuous glucose monitors. Small sensors are worn on the back of your arm that you can link to a monitor or an app on your phone to tell you your blood glucose without poking your finger each time.
My second argument would be the use of insulin pumps. If wearing an insulin pump, you would have to puke yourself less with an insulin needle, it would be easier to administer insulin as you just need to press a couple buttons, and you have more flexibility with eating and exercise (Editor, 2019).
My third argument would be that technology can help keep diabetic complications away. There are mobile apps for diabetic meal planning, fitness trackers to keep track of your physical activity, sleep monitors to monitor your quality of sleep, gadgets and apps to manage stress, and forums to speak to other diabetic people in the community (Ijaz, n.d.).
I believe my thesis is arguable. Some may say technology has negatively impacted their quality of life due to the cost of the technology. Unfortunately being a diabetic is not cheap. Insulin pumps cost thousands of dollars. The fancy glucose monitors can cost hundreds of dollars every few weeks to replace the sensor on the back of your arm. Some people may not be tech savvy. Insulin pumps are a huge learning curve, as are any of the new monitors. Maybe some people have difficulties figuring out apps, blogs, forums. The pandemic has made things even more difficult now that there are decreased face to face appointments with health care professionals and appointments must be done via telephone or virtually. This could lead to the patients avoiding appointments.
References
American Nurse. (2007, September 11). How about a career in nursing informatics?. Retrieved from https://www.myamericannurse.com/how-about-a-career-in-nursing-informatics/.
Baker, E., Fond, M., Hale, P., & Cook, J. (2016). What is "informatics"?. Journal of Public Health Management & Practice, 22(4). 420-434. doi: 10.1097/PHH.0000000000000415
Editor. (2019, January 15). Pros and cons of insulin pumps. The Global Diabetes Community. https://www.diabetes.co.uk/insulin-pumps/pros-cons-of-insulin-pumps.html
Elrick, L. (2017, September 26). Technology in nursing: How electronics are changing the field. Rasmussen University Nursing Blog. https://www.rasmussen.edu/degrees/nursing/blog/technology-in-nursing/
Ijaz, R. (n.d.). How technology is making diabetes management easier. HealthWorksCollective. https://www.healthworkscollective.com/how-technology-is-making-diabetes-management-easier/
McGonigle, D., Hunter, K., Sipes., C., & Behda, T. (2014, August). Why nurses need to understand nursing informatics. AORN Journal, 100(3). 324-327. https://doi.org/10.1016/j.aorn.2014.06.012
The Canadian Association of Schools of Nursing [CASN]. (2014). Nursing informatics – Entry-to-practice competenies for registered nurses. Retrieved from https://www.casn.ca/wp-content/uploads/2014/12/Infoway-ETP-comp-FINAL-APPROVED-fixed-SB-copyright-year-added.pdf